Used Textbooks

Used Teacher Editions

Used Teacher Resources

Leveled Readers NEW!

New Titles (over 900)

New Handwriting List
---
Special Discounts for Teachers & Schools

Charter Schools

Classroom Sets Promos
---
---
"I would like to thank The Back Pack crew for all their help and great wisdom through this process. I'm so glad I found The Back Pack!
Thank you."

Sandie P.
Home school Mom
Raleigh, N.C.
---
Every time that I call, I am greeted with extreme courtesy and professionalism. What a pleasure it is to deal with The Backpack! I will be back next year."

Susan H.
Parent
Massachusetts
---
"Just a note to
thank you. You have been so kind! I am so excited and really looking forward to next year....thanks to you and all your help!! You have been great through the whole process.
Thanks again."

Lisa J.
School Teacher
Texas
---
"Your attention to detail,
personal service
and expertise in
evaluating our children's education needs was
exactly what
we were looking for.
We love our curriculum
and will definitely
use your services again
next year."

Larry D.
Homeschool Parent
Georgia

.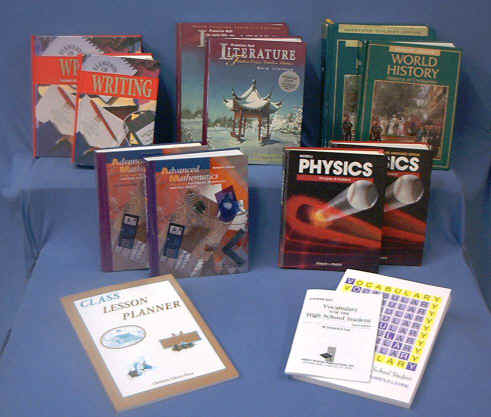 Used Textbooks and Used Teacher Editions
The Back Pack offers an incredible selecton of used textbooks, used Teacher editions and supplemental materials for grades K-12. Whether you call us to buy used textbooks or used Teacher editions, for help with curriculum development, or to ask questions about our products, you will talk to a real live person! We will assist you with old fashioned personal service which insures that you get exactly what you want.... the first time. You can reach us Monday through Friday from 9 to 5 EST. We look forward to serving you!
Order Our Used Textbooks Online
If you do not need assistance and prefer to place your order online, go to our other website www.used-textbooks-online.com. Used textbooks, Used Teacher Editions and Used Teacher Resources are being added frequently to this site. Same company - two websites.

Bulk Discounts
To receive an additional discount of up to 30% on bulk orders of 50 or more books, call us. 252 244 0728 or 888 268 5087

Out of Print Textbooks
We specialize in out of print textbooks. If you need multiple copies of a title, call us. If we don't have the quantity you need, we'll do our best to find them for you. We will also locate out of print textbooks for you if you can't find them on our website.

Homeschool Curriculum
The Back Pack was founded in 1990 and was one of the first companies to provide curriculum to Homeschoolers. In fact, that is the reason we started our company, to provide Homeschool Curriculum to Homeschoolers at discount prices. Now, not only do we serve Homeschoolers, we also serve Teachers and Schools. We also provide customized Homeschool Curriculum Packages at discount prices.
One Stop Shopping: Grades K-12
Choose from used textbooks and used Teacher editions in all subject areas: Spelling, Vocabulary, English Grammar and Composition,
American History, World History, Government, Economics, Civics,
Geography, Reading, Literature, Foreign Language, Science, Biology, Physics, Chemistry, Latin, Home Economics, Mathematics, Algebra, Geometry, Geography, Automotive, Career Development and much more. We will assist you with all of your used textbook needs.
---
Copyright 2019
The Back Pack



America's Affordable Educational Resource

---
Featured Items

Used Textbook Promos

Student & Teacher Edition Matched Sets

---
"I have used a lot of book dealers and the best book dealer that I have found is without a doubt, The Backpack. I highly recommend them!"
Laureen P.
South Sutter
Charter School
---
"Doing business with David and Joan at The Back Pack has been an absolute pleasure. We opened a new charter school in the summer of 2014, and they worked within our budget to help us select high-quality books at a great price. We opened smoothly and have all the textbooks, leveled readers and classroom resources we need, and are forever grateful to David and Joan for sharing their expertise with us. For great books at a great price, The Back Pack can't be beat!"

Steve P.
North Carolina
---